AC/DC CLAMP METER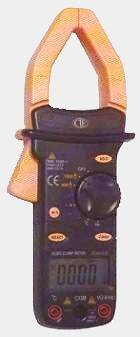 Application
With Frequency, Temperature, Voltage, Resistance, Diode & Audible continuity testing.
Salient Features
Accurate
Reliable
Safe
Easy to Use
Attractive Look
Large LCD For Easy Reading
Capacitance Measurement Facility
Data Hold Facility
Low Battery Indication
Diode & Audible Continuity Test Facility
Standard Accessories
Operator's Instruction manual, set of test leads, "K" Type Thermocouple, 9 volt battery & Plastic Carrying Box.
Technical Specifications
Display : LCD 3999 counts. Updates 2-3 / sec.
Ranging Method : Auto Range Mode
Polarity Indication : *_* display for negative polarity
Overrange Indication : Only Figure *OL* on the display
Jaw Capability Power : 42mm ( max conductor size
Power : Battery 9V DC
Low Battery Indication : ± appears on the display
Operating Environment : 5ºC to 35ºC
Storage Temperature : -10ºC to 50ºC
Size : 250mm X 99mm X 43mm
Weight : Approx 480g.