ELECTRIC MOTOR CHECKER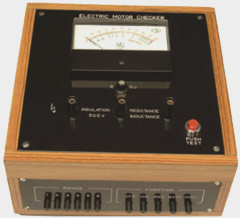 Housed in attractive wooden body with sunmica finish. For comprehensive check of Rotor and Stator Inductance, Resistance and Insulation Resistance without dismantling the Motor. Only to isolate the power supply. 
Application
'CIE/1001' Electric Motor Checker tests Three phase squirrel-Cage motors Slip ring Motors, Variable Speed Motors Power Tools Submersible Pumps and other similar Three Phase Machines.
Salient Features
Spring Loaded Shock Proof Pivot Jewel Type indicating meter
Most reliable and perfect actioned Rotary Switches for function and range selection
Push to test, to Save Power
Electronic zero Set for Insulation Resistance
Self Battery Test
Technical Specifications
Insulation Resistance:0-20 Megohms at 500 V DC, Max. Current 0.25 mA (with electronic Zero set facility)
Resistance:0-60 Megohms in 6 ranged (0-0.2 Megohms FSD in Range 1) (i.e. 0-0.2 / 0.6 / 2 / 6 / 20 / 60 Megohms marked as % on dial)
Inductance:0-300 mH in 6 ranged (0-1 mH FSD in Range 1) (i.e. 0-1 / 3 / 10 / 30 / 100 / 300 mH, Marked as % on dial)
Self Battery Test:To check the condition of the battery of the instrument itself
Power Source:1.5V x 6 Nos AA size cells or 230V AC, 50Hz (Provided with inbuilt 9V Battery Eliminator Adaptor)
Dimensions:233mm x 216mm x 115mm (Approx)
Weight:2.335 kg (with Batteries) (Approx)
Standard Accessories
Supplied with Operational manual, 1.5V AA Size cells- 6nos, Testing leads with contact clips- 1 pair, Carrying case, Mains cord for for 230V 50Hz
Guarantee
Guaranteed for 12 (twelve) months against any manufacturing defects.