OIL TEST SET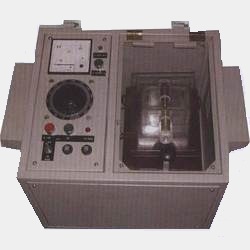 Application
Ideal for speedy and accurate testing of Breakdown / withstand test of transformer and circuit breaker oil, in accordancewith IS 6792 : 1992 for oil testing.
Special Features
Mains ON / OFF switch.
Neon Lamps to indicate L.T. ON & H.T. ON
Autotransformer for smooth & continuous Variation of output voltage.
Zero start interlocking
HT chamber door interlocking
Lamp to indicate "Regulator not at zero" for motorised set.
Memory device with push button switch to show the breakdown voltage.
96 sq. mm. AC moving iron type voltmeter connected to L.T. side and scaled in KV.
Provided with test vessel (Oil Cell) made from non absorbent insulating material fitted with two brass sphares of diameter between 12.5 to 13 mm, placed at a distance of 4mm or 2.5mm.
A gauge is provided along with the cell to adjust the gap.