HIGH VOLTAGE BREAKDOWN TESTER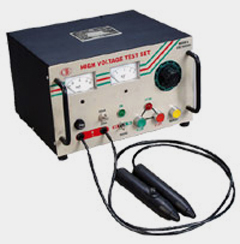 Application
'CIE' A.C. High Voltage Breakdown Test Set is ideal for fast accurate & reliable testing of withstand/Breakdown test of electrical & electronic materials, components, equipments, panel boards, etc.
Salient Features
Robust Powder Coated Sheet Metal Case
Elegant Look
KV Meter to Read The Output Voltage
Millimeter to Show Leakage Current
Speedy and Accurate Testing of Breakdown/Withstand Test of Electrical & Electronic Components, Materials, Equipments, Panel Board Etc.
Technical Specifications
Input Voltage : 230V, +/- 10%, 50Hz, 1 phase A.C.
Output Voltage : Continiously variable from

(i) 0 to 3 KV AC for 3 KV Test Set
(ii) 0 to 5 KV AC for 5 KV Test Set

Capacity : 50 mA maximum in the H.V. Side
Tripping Current : 25 mA & 50 mA (Toggle Switch Provided)
Duty Cycle : Intermittent i.e., 5 minuites 'ON' & 10 minuites 'OFF'
MODE OF OPERATION : Manual
* Tripping current set point other than standard setting can be provided at extra cost.
For More Products Model and Their Specification